Whenever I visit a blog, I noticed that most mommies have memes to join. Some memes are really interesting and fun and some are really challenging. Whatever the theme of the meme, this can be source of ideas if you are running out of topics to write. Sometimes they can also serve as fillers if you are not really in the mood to write anything. If you haven't join any, you may check the list below and see what fits you. I know that there are a lot more. The memes listed below are the memes I usually see on other moms' site. Enjoy!
Monday

Inspired by Pehpot's mutual "secret", Chris of Inspiration Insights started this weekly Monday meme The concept of this meme is to feature a site that becomes an inspiration to you. Chris provides a weekly suggestion to help you choose who would you like to feature.  Have a found a great site worth visiting and you want to let others know about this site? Why not join this meme every Monday? Just click on the button to see the rules of this inspiring meme.
PixelBug is the newest photo blog in blogosphere. Still very fresh, Pixelbug had its launching last September 20. This meme is hosted by Sassy Mommy who describe herself as a wannabe photographer who loves to capture life as it happens. Do you share the sane enthusiast? So what are you waiting for? Go and get your camera, capture your weekend activity and join your entry on this meme. For sure, other participants of this meme will love to see your photos.
As the button indicates, I heart Faces is a photography blog.  To quote its description on its page, I ♥ Faces is a photography site focused on the art of capturing faces and their various emotions. Each week, people from across the world have the opportunity to enter their favorite face photos into a themed photo challenge. A "Guest Photographer Judge" will choose ten of their favorite photos that will then be displayed on our home page.
Tuesday
Do you love movies or shows? Then, Tuesday Couch Potato is for you. This Tuesday meme is hosted by Kikamz of Just About Anything. This meme will allow you to share the great movies you have watched, your thoughts about the movie and what is the movie all about.
Wednesday

Word Filled Wednesday purpose is to share God's Word through a photo and a verse. Personally, I love joining this meme because I am not only reminded of God's wonderful Word but I am also blessed by the testimonies of those who are joining this meme. If you want to fill your Wednesday with God's Word, head to 160 Acre Woods and enlist your entry.
Thursday
Girls Talk is a weekly meme started not so long ago. As the title of the meme, Girls Talk is all about girly thing. This new babe meme is hosted by none other than pretty and kind-hearted Niko of Girls Rule. So if you are in and wish to share your "girly things", just head to Girls Talk.
Litratong Pinoy is a photo blog exclusive for Filipinos. Litrato is Filipino (or should I say Spanish) word which means picture or photo and Pinoy is more common term for Filipino. If you are a Filipino and want to join this weekly meme, check its Paano Sumali (How to join) page for the rules of this meme.
If you are fond of writing letters, then Letters That I'll Never Send meme is very suitable for you. This meme has a weekly theme to help you get an idea what to write and for whom. This meme allows you to pour out your sentiments and grievances without hurting the involved person because the letter you composed will never be sent to that person. So if you want to pour out whatever feelings you have inside for someone and don't want him/her knew it, join this meme and be free of that feeling. By the way,  this therapeutic idea is by Mys of Thoughts and Obsessions.


Thankful Thursday is a venue for the participants to share their blessings for the entire week. As the information page of this meme states, "The road of life is hard, let us count our blessings as we travel this road…" Are you blessed and have to something to thank God for? Join this meme then and share your blessings to others.
Friday
Mommy Moments is an every Friday weekly meme. Mommy Moments meme allow  mommies  all over the world to interconnect by sharing their own moments as mommies in relation to the weekly theme. The woman behind this meme is a blessed wife of a minister and wonderful mom of two kids, Chris of The Mommy Journey. Are you a mom who wants to share your moments with other moms, join Mommy Moments then and enjoy other mommies' moments too.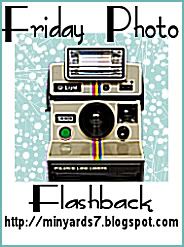 Alicia of More Than Words started this Friday meme for the basic reason that she so many pictures from her pre-digital camera. She thought that it would be fun to scan them and share them with others. So if your trip is to go rethro and reminisce the story behind those old photos taken by first generation cameras, join the photo meme which is held every Friday.
If you love photography and food, this meme is for you.  Take the best shot of  of your dish and head to http://foodtripfriday.fickleminded.net/ to share your photo.