My new found friend, Mommy Rubz of Lourdes Mia, gave me my first ever award. Thanks to Mommy Rubz.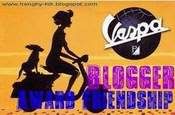 The rules are so easy:
1. Place the logo / banner on your blog.
2. Add a link to the blog who gave the award.
3. Nominate at least 7 other blogs.
4. Add links to the blogs that you have nominated.
5. Let them know by leaving a message (shout) on their blogs.
I want to share this award to all my blogmates (unfortunately, it didn't reach 7 yet):
Brown Pinay