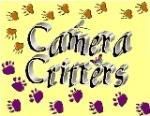 This is my daughter's baby! She calls it "anak" (my child). My daughter waits for this little creature to come home every night. And when she wakes up in the morning, she always asks us if her "anak" is around. If she didn't see her "anak" before she slept the night before, her first question to us in the morning is "Did my 'anak' come home?"


Believe it or not, almost every night, this little creature comes home. Well, of course we are not sure if the same salagubang or scarabs comes back every night but there is at least one coming home. Yes, at least one because sometimes they were two of them.
When we heard something bumped the glass jalousie, we knew that it's my daughter's "anak". One time, we brought this little creature in our room on the second floor of the house. When we woke up, "anak" had left. But that night, the little creature came back, not downstairs but in our room. We concluded that the little creature return to the place where he left.

Want to see more critters? Just click the badge above.